Billing details were moved to Oracle Cloud. This documentation is here to find your way around and get you where you need as easily as possible.
Getting to billing info
Click on your profile picture in the top-right corner. You will see a link "Team settings". Once there, click the "Billing" link to get to your billing management page.
If migration to Oracle Cloud is required, you will be redirected to Migration Landing page.
If everything is set as expected, you will see page with basic details about current plan, Team name and Oracle Cloud Account Name.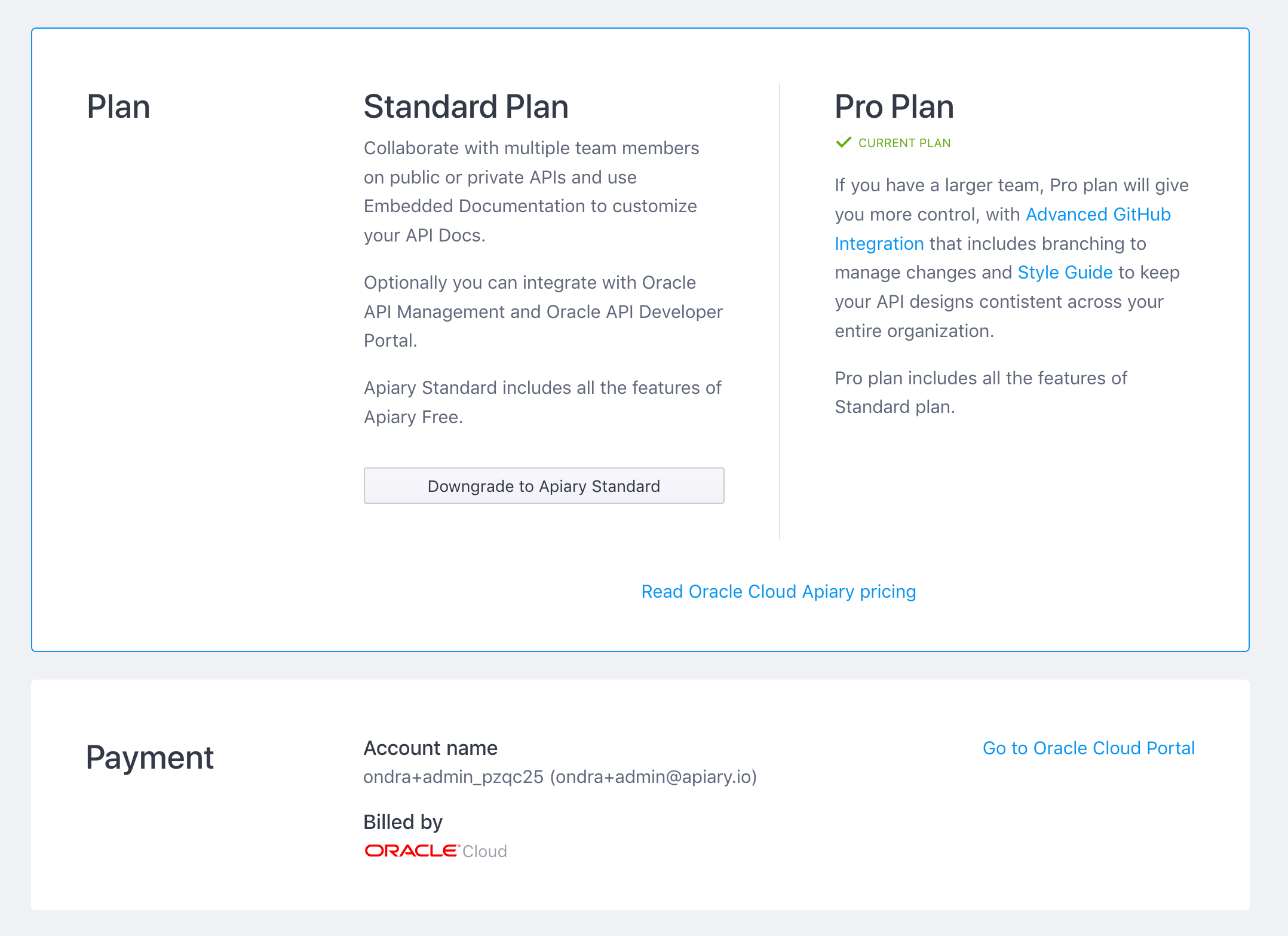 Changing Plan
You can upgrade or downgrade to or from Pro plan at any time.
As the billing is on hourly base, next hour after upgrading you will get charged higher rate. The same applies for downgrades.
Cancelling Subscription
Cancelling the subscription means to delete the team. The team can be deleted from team settings page, where you look for Danger Area
Note
If you don't download your team data before deleting it, they will be lost for good.
Team Connected with Oracle Cloud
If your team account was migrated to Oracle Cloud or created already with Oracle Cloud, you are able to cancel the subscription from Oracle Cloud Portal directly.
When you are signed in visit Billing Page. And if team is connected to you should be able to see in Payment section: "Billed by Oracle Cloud".
For more details visit Oracle Cloud Documentation.
Invoices
To get current spendings and ivoices, you must visit Dashboard in Orace Cloud.
Related topic in Oracle Help Center:
Team plans deprecation
From 9.9.2021 plans are deprecated and the changes are handled upon support request only for the current customers.
New teams can't be created and only free user accounts will exist till the end of life (EOL) date (to be announced).
Migrating to Oracle Cloud
On October 31, 2017 we canceled all existing subscriptions and initiated migration period to Oracle Cloud.
How do I know I need to migrate?
Email about required migration was send to all team administrators.
Also after signing in to Apiary you will see migration announcement in header
What will happen if I don't migrate to Oracle Cloud?
Users who do not self-migrate by February 15, 2018, will be downgraded from a paid subscription to a free Apiary subscription with limited features.
Why do I need to migrate?
With Apiary as part of Oracle's Cloud Platform as a Service (PaaS) group of Integration solutions, you will have the opportunity to easily select and use any of the PaaS and Infrastructure as a Service (IaaS) solutions once you complete the migration. For more information about the various Oracle IaaS and PaaS services, please take a few minutes to review the Oracle Cloud services.
To take advantage of Oracle IaaS and PaaS services, and due to the Apiary credit card processing system being shut down as of October 31, 2017, the first step is to transition your subscription and billing from Apiary to Oracle by February 15, 2018. The completion of the migration to Oracle's billing and contract terms will ensure the continuation of your Apiary subscription as well as grant access to explore and use other valuable features of Oracle Public Cloud.
What steps do I need to take to migrate?
Sign in to Apiary and if you see Announcement bar start the migration. Or open Billing from Team settings, which will take you to migration landing page if migration is required.
Click on Start the migration process now button above.
You will be redirected to the Oracle Cloud portal. Complete all required fields to setup your Oracle Cloud portal account. Please make sure to select the Default Data Region as North America, Apiary is currently available only for customers using this region. You can use the North America region regardless of where you are located.
Add your credit card information and accept the Oracle terms.
Click Complete.
After completing the transition of your Apiary subscription to Oracle billing and contract terms, you will receive an email welcoming you to Oracle. You can then continue to use Apiary as you did before the migration, including access to Support through the cloud service.
Our priority is to ensure uninterrupted service and deliver a seamless experience to you. We appreciate you taking the time to complete these simple steps to continue the benefits you receive from Oracle Apiary Cloud Service.
What if I run into problems when migrating?
If you run into any issues or have any questions about the migration, please do not hesitate to contact us at support@apiary.io.